KATHLEEN LAGUE
ACTOR/SINGER

FILM/TV: SANGER TALENT AGENCY 310.284.2619
COMMERCIAL: KAZARIAN SPENCER ASSOCIATES 818.769.9111
VOICE OVERS: DANIEL HOFF AGENCY 323.932.2500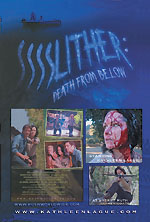 NOV 2005 -- Just wrapped filming on her first starring role in a feature, entitled "SSSLITHER" from the producers of "American Pie: Band Camp". Kat plays the lead role of Sheriff Ruth Gainey-Coates who along with her ex husband Delmar, animal control officer, battles mutant killer EELS in the swamps of the Florida everglades! It's going to be a very scary, fun, horror film with a little romance too! Set stills and "making of" photos are yet to come.
Kat's first studio comedy, "AMERICAN PIE: BAND CAMP" is coming very soon to DVD.
Read an exclusive interview with Kathleen discussing the movie, other recent films and her music, with a journalist based in Australia, where "American Pie: Band Camp" was released Oct 28, 2005! Read an AWESOME review of "American Pie: Band Camp!"
August 2005 -- Several new feature films from the Oxygen Network, Mindfire Entertainment, and Seven Arts Pictures feature ADR looping and revoicing by Kathleen. Release dates TBA.
June 2005 -- Look for Kathleen in the new DISNEY CHANNEL IMAGE CAMPAIGN. The three commercial spots will run all year long on the Disney Channel. Kat appears with Stitch of "Lilo and Stitch" and with many other Disney animated characters as well as actors from all the Disney TV shows, including "The Suite Life" , "That's So Raven", and "Phil of the Future".
January 2005 -- You can hear Kathleen's voice in the Slamdance premiered feature "All Soul's Day: Dia De Los Muertos". She's the attacking female zombie in the jail scene, and many other voices throughout the zombie horror film from Mindfire Entertainment.
Look for Kathleen in currently running Ford Genuine Challenge commercials nationally!
October 2004 -- Kathleen gets cast in her first big comedy studio movie, "American Pie 4: Band Camp" (Universal). If you've seen the other American Pie movies--this one follows Steve Stifler's little brother, Matt, from high school to band camp. It's going to be hilarious! Kat plays Dr. Choi's receptionist, the head of the top music school. They're shooting this month in LA, it's produced by Mike Elliott at Capital Arts Entertainment.
August 2004 -- Kathleen just back from Reno, NV where she was shooting a feature film entitled "El Cortez" with Lou Diamond Phillips and Glenn Plummer.
July 2004
-- Kathleen costars on Lifetime Television's "What Should You Do?" TV series. The segment called "Acid Eyes" will air on Sat, August 7,
check here
for times in your specific city!
May 2004 -- Kathleen just wrapped an Edward Norton film entitled, "Down in the Valley", in which she plays "Nurse Reed" in a scene opposite the film's costars, David Morse and Evan Rachel Wood. The film is written and directed by David Jacobson, whose last film, "Dahmer", was an Independent Spirit Award nominee in 2003. Edward Norton stars in and coproduced this "modern day western" set in the San Fernando Valley. The star studded cast includes Bruce Dern, Ellen Burstyn, Rory Culkin, David Morse and Evan Rachel Wood.
KATHLEEN LAGUE
ACTOR


  

SAG/AFTRA/AFM

   

HT: 5'9"
WT: 130


EYES: HAZEL GOLD
HAIR: BROWN

FILM

SSSLITER
LEAD
PAT HARRINGTION/CAPITAL ARTS ENTERTAINMENT
AMERICAN PIE 4:
BAND CAMP
SUPPORTING
STEVE RATH / UNIVERSAL
DOWN IN THE VALLEY
SUPPORTING
DAVID JACOBSON / HSI
STARSKY AND HUTCH
FEATURED
TODD PHILLIPS / WB
SULLIVAN SISTERS
LEAD
KEN CARPENTER /
PAX TV MOVIE
AUSTRIAN SUN
LEAD
CHASE VERGARI / TRIFECTA
EL CORTEZ
SUPPORTING
STEVE PURVIS
LA GLORIA
LEAD
INDEPENDENT SHORT
FLIGHT OF THE DEAD TEST
SUPPORTING
LIONS GATE FILMS
FOR LOVE OR MONEY
SUPPORTING
BARRY SONNENFELD
PRODUCER'S PROPHECIES
LEAD NARRATION
JEM ENTERTAINMENT
BASEMENT LOVE
LEAD
INDEPENDENT FEATURE

TELEVISION

WHAT SHOULD YOU DO?
COSTAR

LIFETIME TELEVISION

CSI
GUEST STAR/SINGER

CBS DIR. KEN FINK

AMC CHANNEL PROMO
LEAD
AMC-ROBERT SMALL ENT.
ALL MY CHILDREN
FEATURED DANCER
ABC TV

THEATRE

BRIGADOON
MEG BROCKIE
REGIONAL THEATRE
YOU CANT TAKE IT WITH YOU
PENNY
REGIONAL THEATRE
BYE,BYE,BIRDIE
ALICE
SM SUMMER STOCK
HELLO DOLLY
SUPPORTING
SMN THEATRE
DARK OF THE MOON
EDNA SUMMEY
SMN THEATRE
SOLO ARTIST
SINGER / SONGWRITING / GUITARIST
LIONESS RECORDS
USO TOUR
LEAD SINGER / BANDLEADER
GREENLAND /
SOUTHEAST ASIA
WORLD TOUR
LEAD SINGER
FERNANDO PEREIRA TOUR

COMMERCIALS/INDUSTRIALS

CONFLICTS, DVD REEL, AND V/O CD AVAILABLE ON REQUEST

TRAINING

ACTING:

JUDITH WESTON (AUDITION TECHNIQUE, SCENE STUDY) & RON ROGGE & ADRIENNE WEISS (ACTING/DIRECTING WORKSHOP)
NYC TRAINING: NAOMI THORNTON, MICHAEL HOWARD STUDIOS & FLO GREENBURG - ACTORS WORKSHOP NYC

VOICE COACHING:

TANIA TRAVERS, ANN RUCKERT, LIZ KAPLAN, BOB LINDNER & ROD HAUSEN

ON CAMERA COMM:

BARRY SHAPIRO-HERMAN LIPSON CASTING, NYC
KAREN KAYSER-STEVE HORN PRODUCTIONS, NYC

EDUCATION:
BACHELOR OF ARTS DEGREE IN PSYCHOLOGY AND ART
GRADUATED CUME LAUDE BAKER UNIVERSITY
SPECIAL SKILLS:
PROFESSIONAL SINGER

, GUITAR

PLAYER, RUNWAY MODELING, AEROBICS INSTRUCTOR, BALLROOM DANCING, DRAWING AND

PAINTING, WATER

AND SNOW SKIING, HORSEBACK RIDING & STICK SHIFT DRIVER

LOOP GROUP/REVOICING RESUME


TITLE

PRODUCTION COMPANY

DIRECTOR

ROOM 6
MINDFIRE ENTERTAINMENT
MARK ALTMAN
HOUSE OF DEAD II: DEAD AIM
MINDFIRE ENTERTAINMENT
MARK ALTMAN
POOL HALL PROPHETS
SEVEN ARTS PICTURES
KEONI WAXMAN
NADINE IN DATELAND
DAVIS ENT/OXYGEN NETWORK
AMIE STEIR
ALL SOULS DAY: DIA DE LOS MUERTOS
MINDFIRE ENTERTAINMENT
JEREMY KASTEN
THE HEART IS DECEITFUL ABOVE ALL THINGS
MINERVA PIC CO.

ASIA ARGENTO

REVOICING/NARRATION

ALL SOULS DAY: DIA DE LOS MUERTOS
LEAD
POOL HALL PROPHETS
SUPPORTING
NADINE IN DATELAND
SUPPORTING
HELL RIDE: A BAND APART
LEAD
Site Maintained by Altposters/Rock Posters